Join the Paper Missions Challenge! Encourage your student(s) to complete as many Paper Missions activities as they can by March 12 in order to win a prize and foster creative learning! Let's go Manara!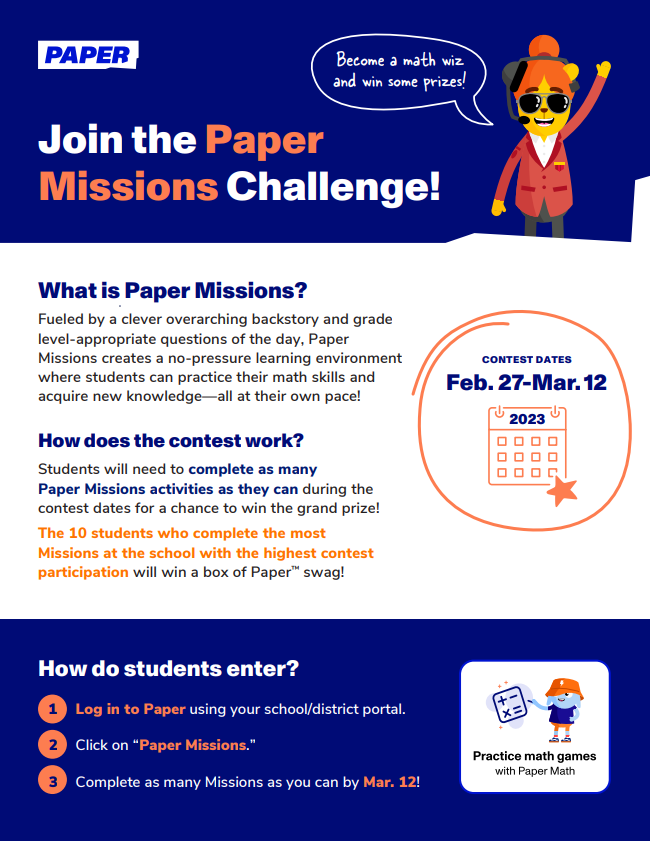 Manara Academy's Autism Awareness and Advocacy event will take place next month, and we've designed a t-shirt you can wear with us to show support and solidarity with Autistic persons and the community! Scan the QR code with your phone's camera to order--orders close March 10!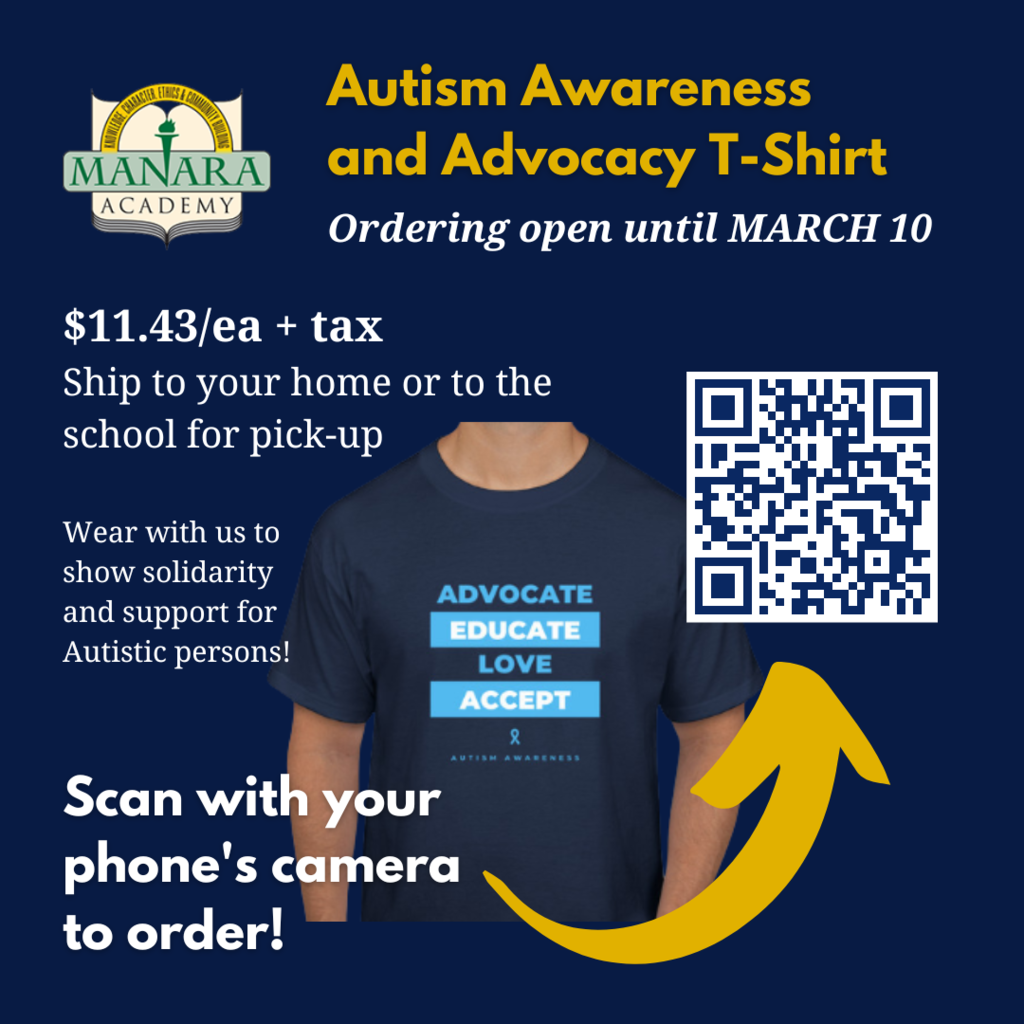 Good morning STEM families! The notice that recently went out regarding school being in session is for April 21, not tomorrow. Sorry for the confusion! However, there is the American Muslim Cultural Celebration in Arlington tomorrow from 2pm-7pm that our district will have a booth at! The festival will have art, culture, music, lots of food vendors, shopping & more! If you're there, come by & say hi to some of our STEM teachers & staff! The festival is at the Levitt Pavilion, 100 W Abrams Street in Arlington. Enjoy your weekend!

As we move into the 2023-2024 Registration process, we want to make ourselves available to help in ways that best serve our community. Which would be more helpful: Appointments, or Enrollment Nights? (Or both!) Let us know by emailing Ms. Bing at
hbing@manaraacademy.org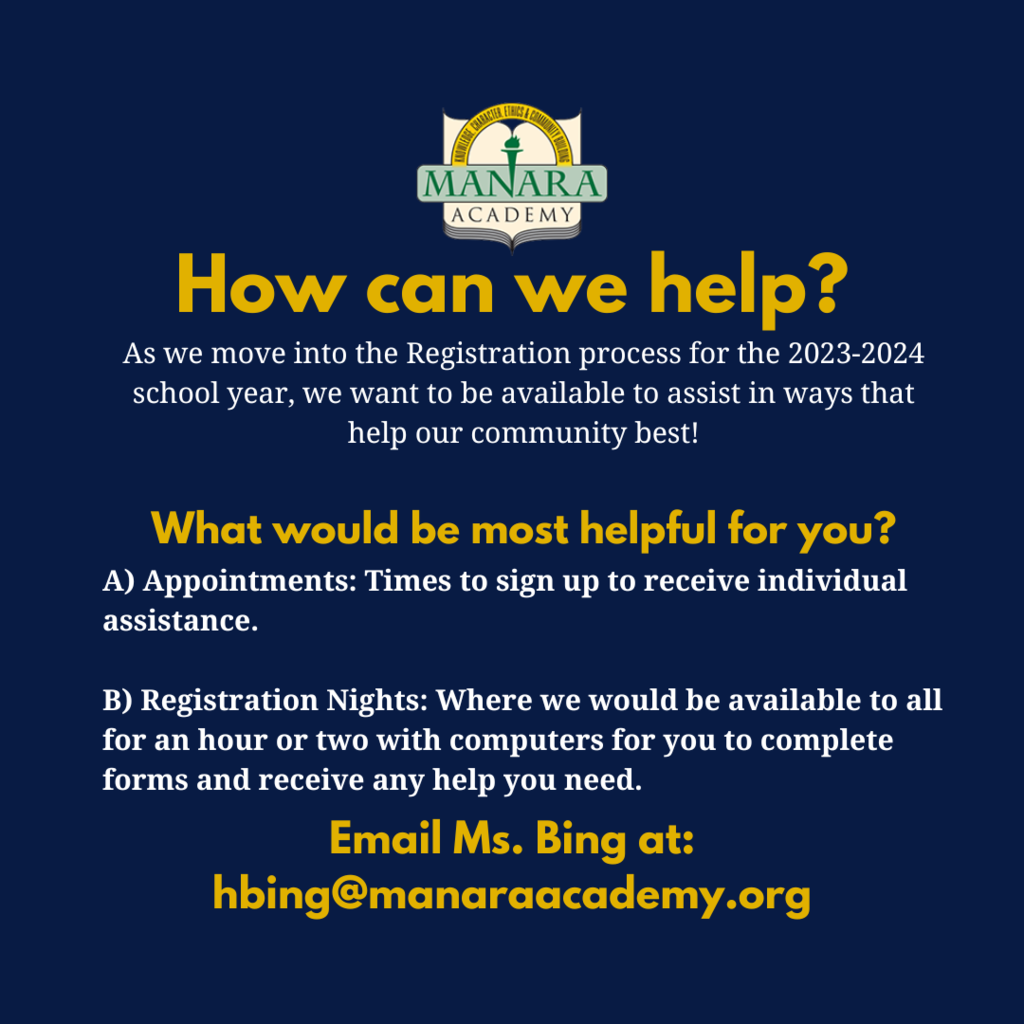 Spots are filling up for next school year! Apply for the 2023-2024 school year NOW by visiting the 23-24 Admissions page and clicking the link to apply!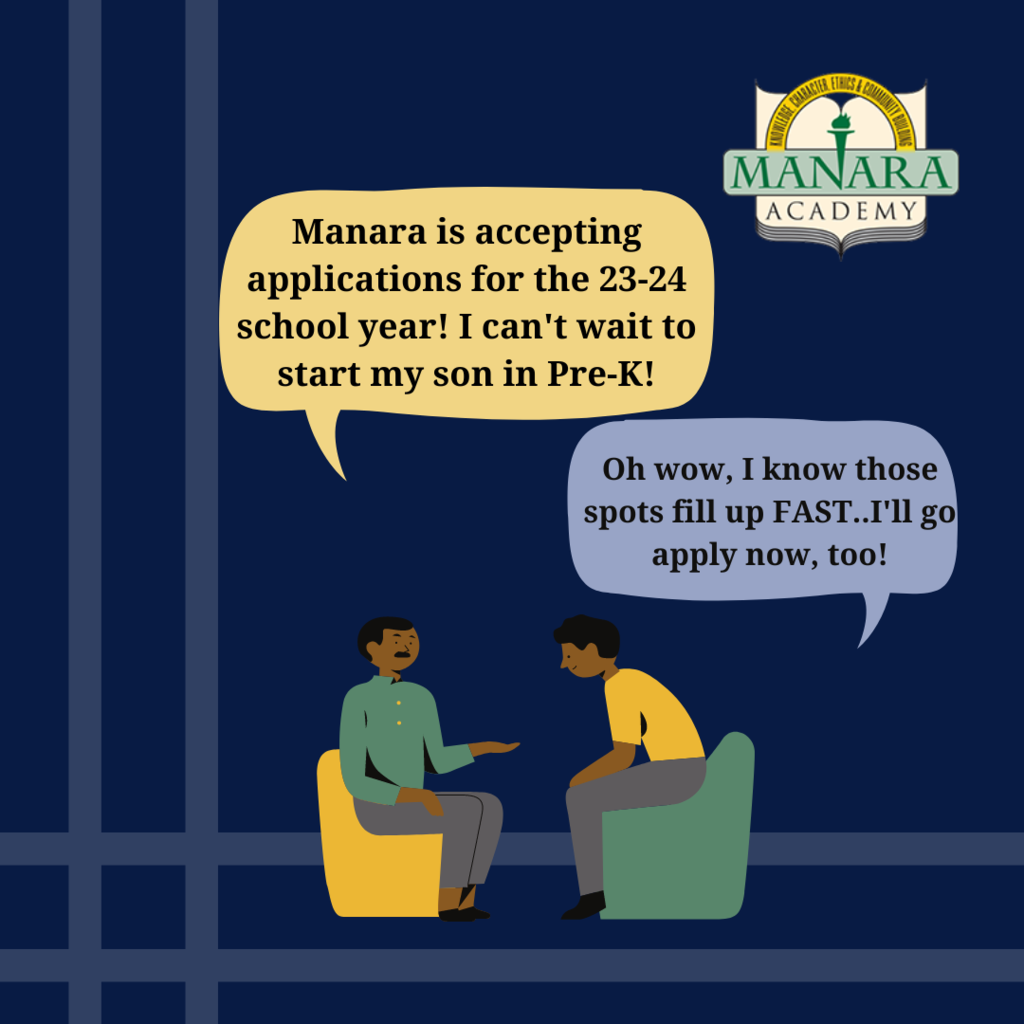 Have you checked out the 23-24 Admissions page? Click the "23-24 Admissions" button to view links to apply, step-by-step instructions, and meet your admissions team!
www.ManaraAcademy.org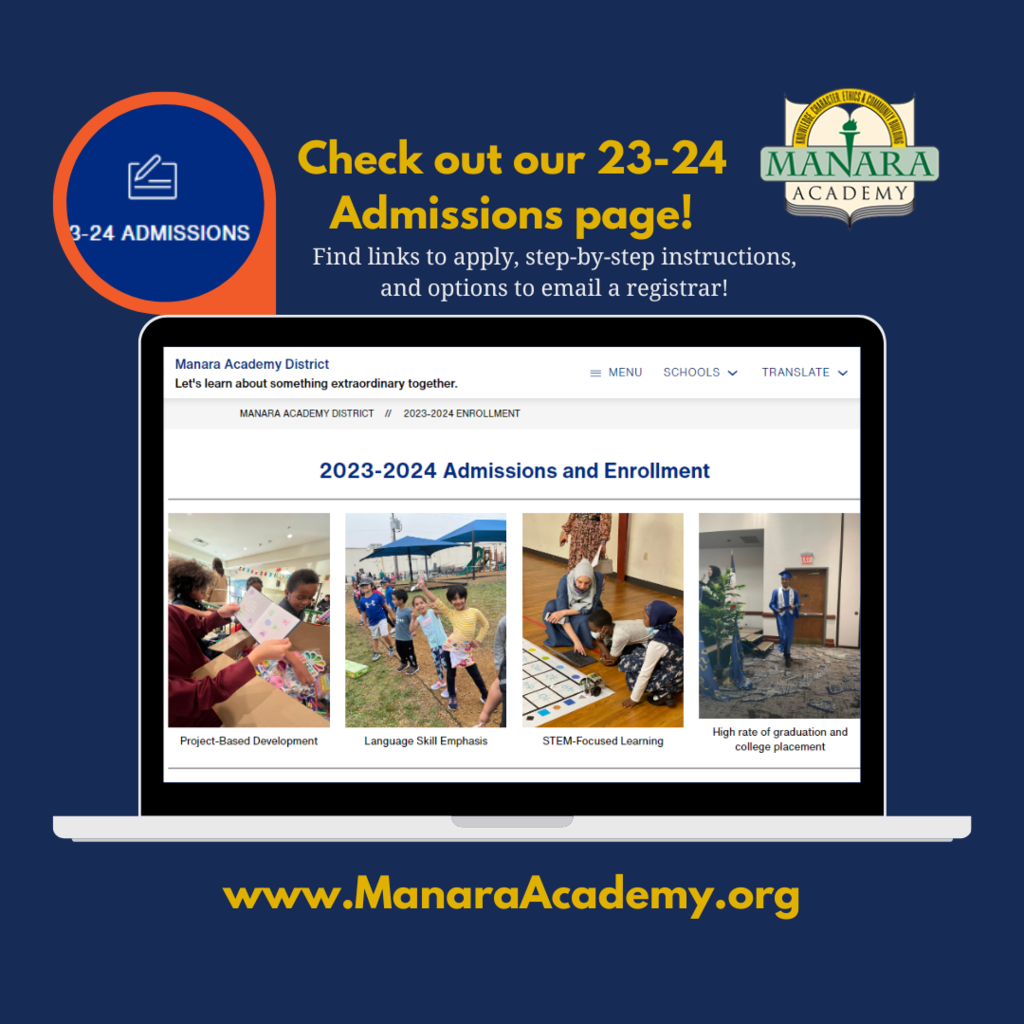 We LOVE seeing the growth in our community each year. If you know someone looking for a new educational home, spread the word! We are now accepting applications for the 23-24 school year! Visit our website and click 23-24 Admissions for more info.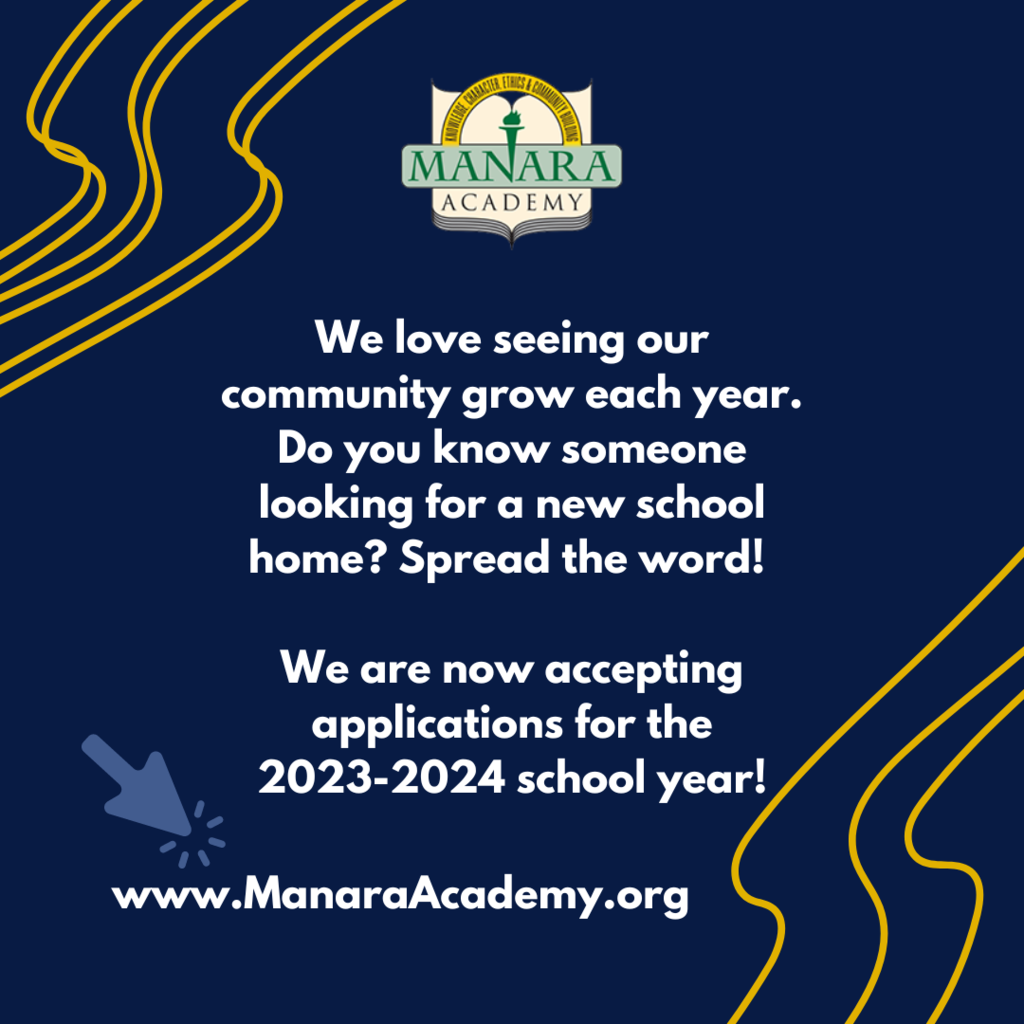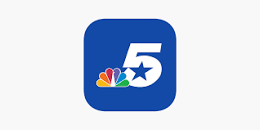 Spread the word! Manara Academy is now accepting applications for the 2023-2024 school year! Visit ManaraAcademy.org and click the 23-24 Admissions tab for details and a link to apply.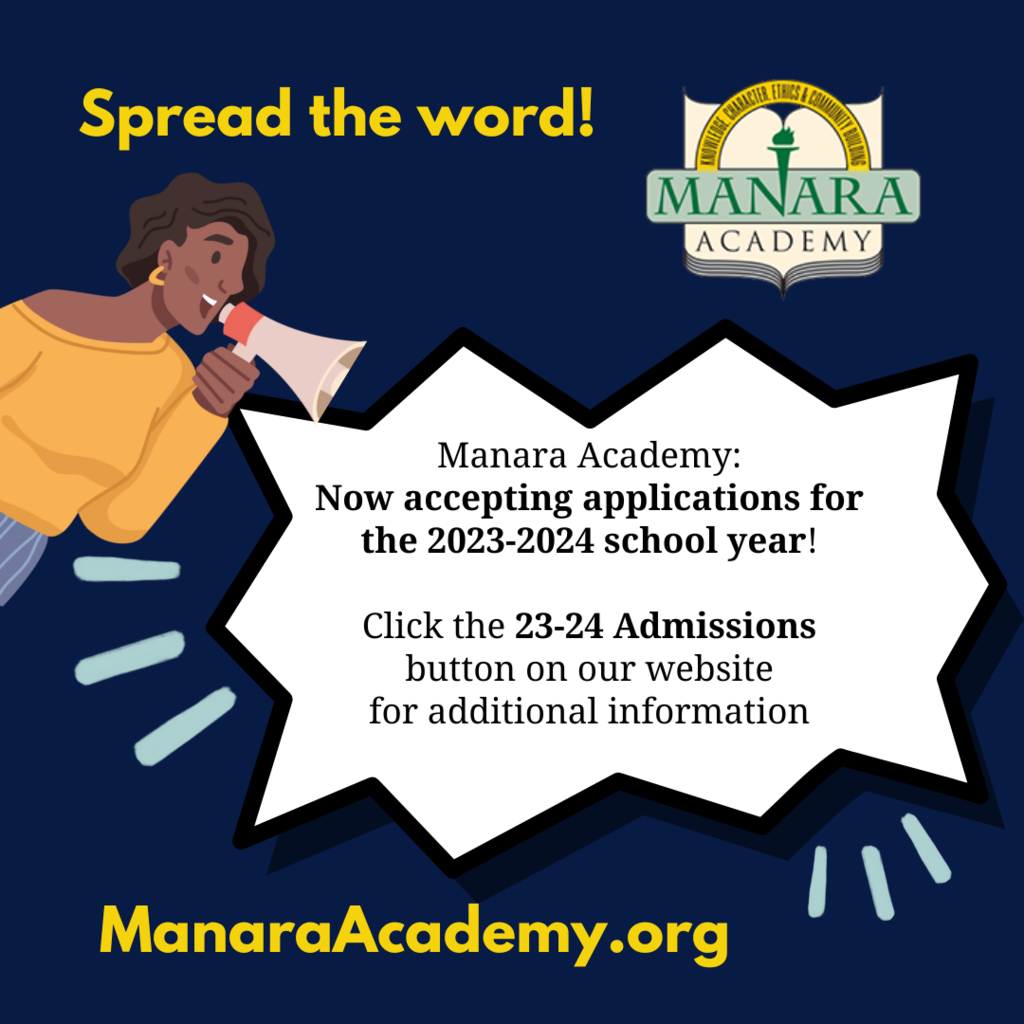 Good morning Manara STEM families, I hope you all have been able to enjoy the lovely weather this weekend! Thank you for taking the time to read all the information within the newsletter, as there are important items happening this week, from testing to Cookie Gram sales to hearing & vision screenings. The end of the 4th 6 weeks is this Friday, February 17. Student-Led Conferences will be held the week of February 27, so please look for communication from your scholar's teacher(s) to come regarding signing up for a time to attend. We had 100% of our families complete the Intent to Return information for next school year! Because of that, I'm excited to announce that ALL scholars will have a week of FREE DRESS DOWN DAYS the week before Spring Break (March 6-10). Thank you all for completing the intent! Enjoy your Sunday! We look forward to seeing all our scholars tomorrow morning by 8:00am! #MAWAY! Principal Vinten
https://sites.google.com/manaraacademy.org/stemconnect-families/newsletter/february-13-2023

ALERT! Today is the LAST DAY to guarantee your child a spot next year by completing Intent to Return (ITR)! This quick and easy form takes only a minute to complete, and saves you a lot of time later--those who do not complete ITR will have to fill out a new student application and go through the lottery again, potentially losing their seat. Call or email with any questions, or if you need help to complete! 972-304-1155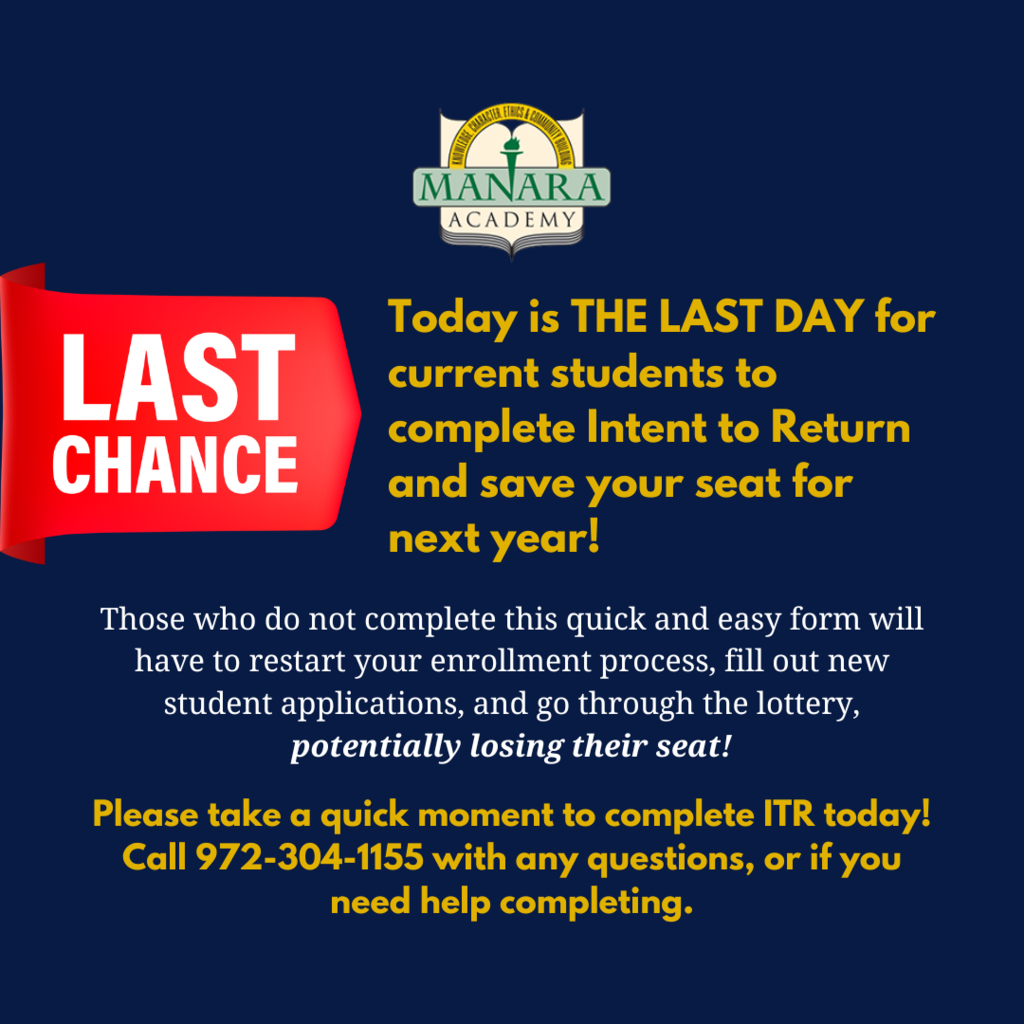 Great Family Fun Night at STEM tonight! Good times being shared together playing games, Legos, coloring, & shopping at the book fair & for cookie grams! There's still time tomorrow & Friday to shop at the book fair & buy cookie grams! 🎉#MAWAY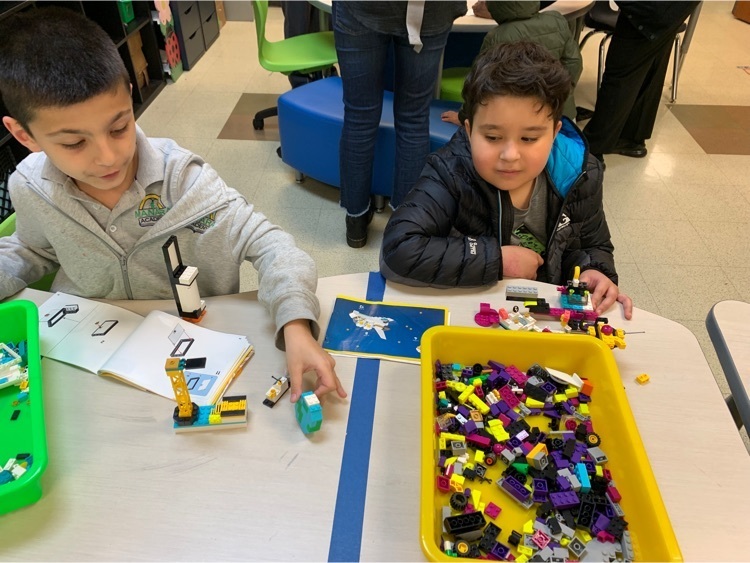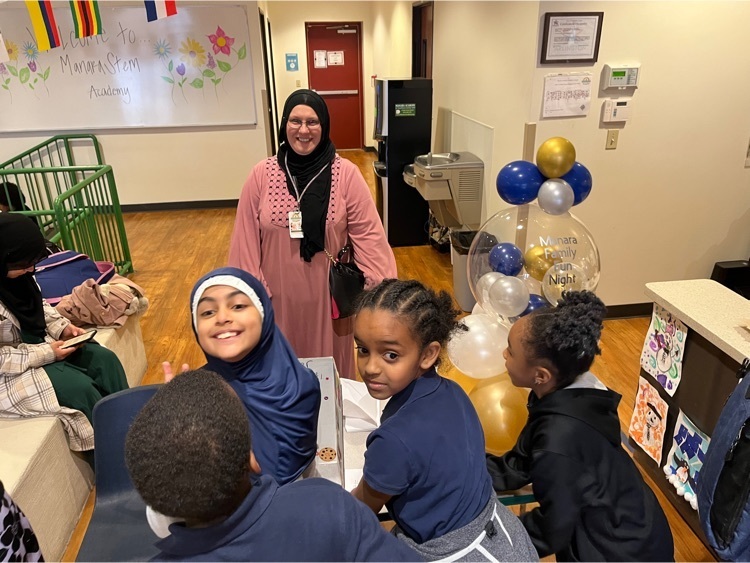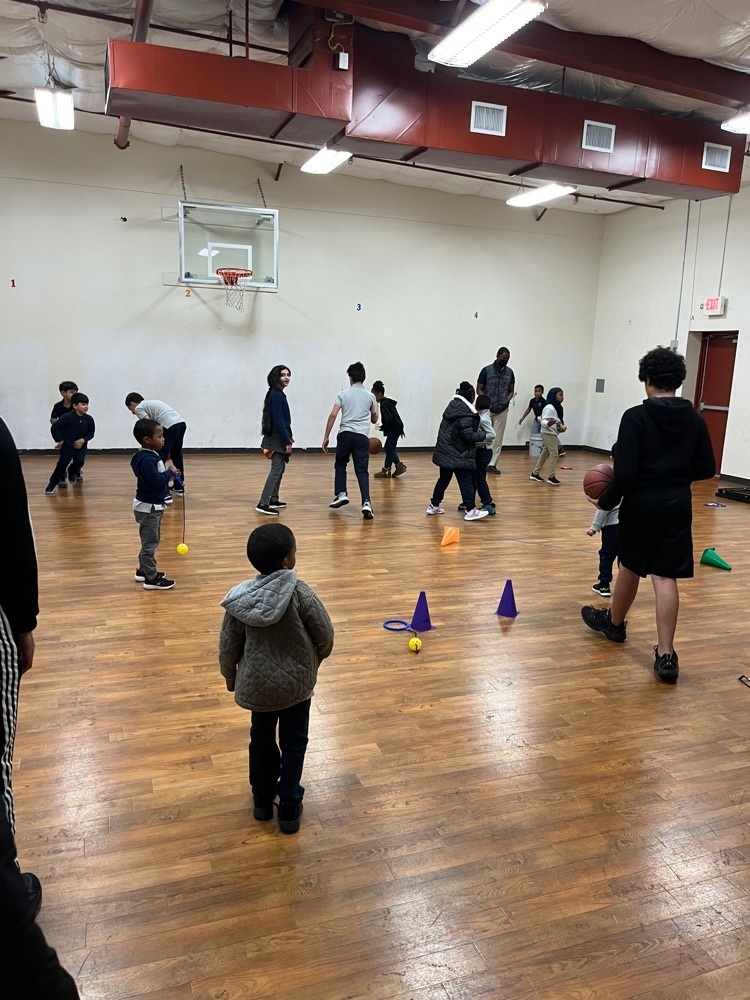 We love seeing how much students, teachers, and families are using and benefiting from Paper.co -- the free, 24/7 access tutoring program for students grades 5 and up! We wanted to take a moment to recognize and celebrate our top 5 users district-wide! Congratulations, students, we see your hard work paying off!

Questions about ITR, Registration, New Student Applications, and more? Manara Academy Lead Registrar Hallie Bing is taking your questions all day on Instagram and Facebook to help you have the smoothest Admissions experience possible! Check out our FB/Insta story to see more.
Good morning, STEM families! We're excited about our Family Fun Night today from 4:00 - 5:30! Come out of the rain & code robots, play games, build with Legos, make a craft & shop at the Book Fair! We're looking forward seeing you all!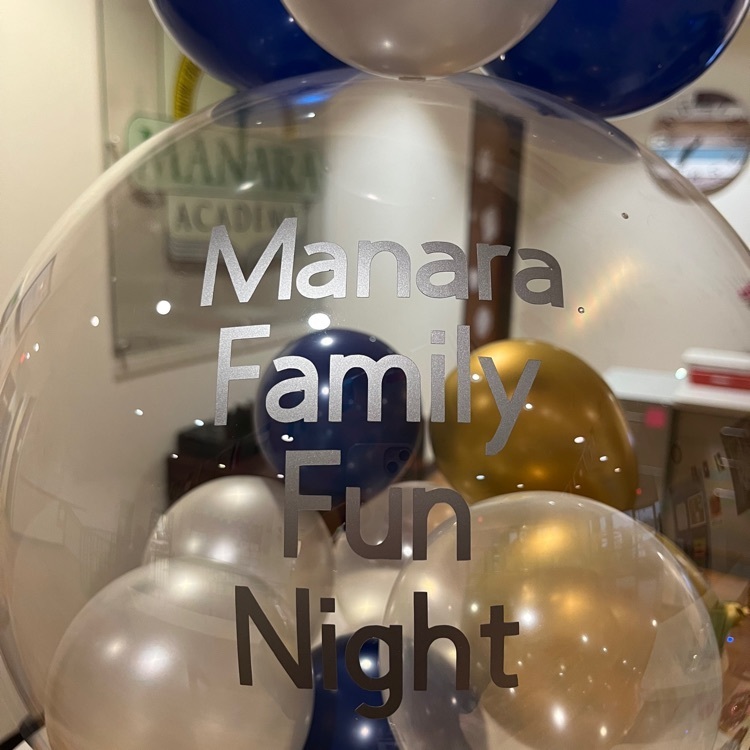 Only TWO DAYS LEFT to complete Intent to Return. It only takes a moment, and allows you to maintain priority enrollment by saving your student's seat for next year. After the form closes on Friday, you will need to complete new student applications for each returning student and have them go through the Lottery process with all new students. Please don't delay! We are standing by on campus and at the district office to assist you, 9am-3pm. If you need a computer, internet access, or are having trouble with the form, please come by! We're more than happy to help.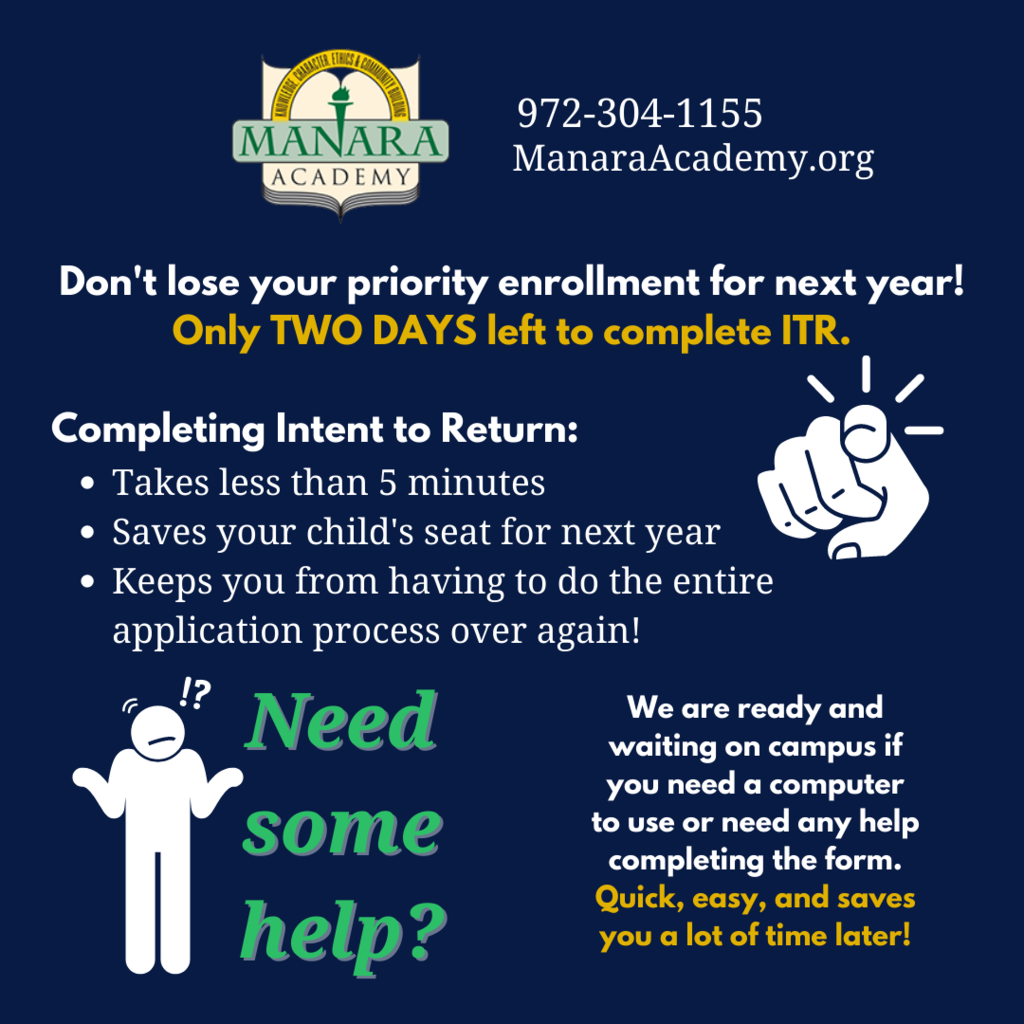 Only THREE DAYS LEFT to keep your priority enrollment! Save your seat for next year and skip having to do the whole application process again by completing Intent to Return. Deadline is THIS FRIDAY, 2/10/23. Contact your registrar for assistance.

Looking for 2023-2024 Admissions information? Click the "23-24 Admissions" button on the main menu bar to locate all information surrounding the upcoming school year.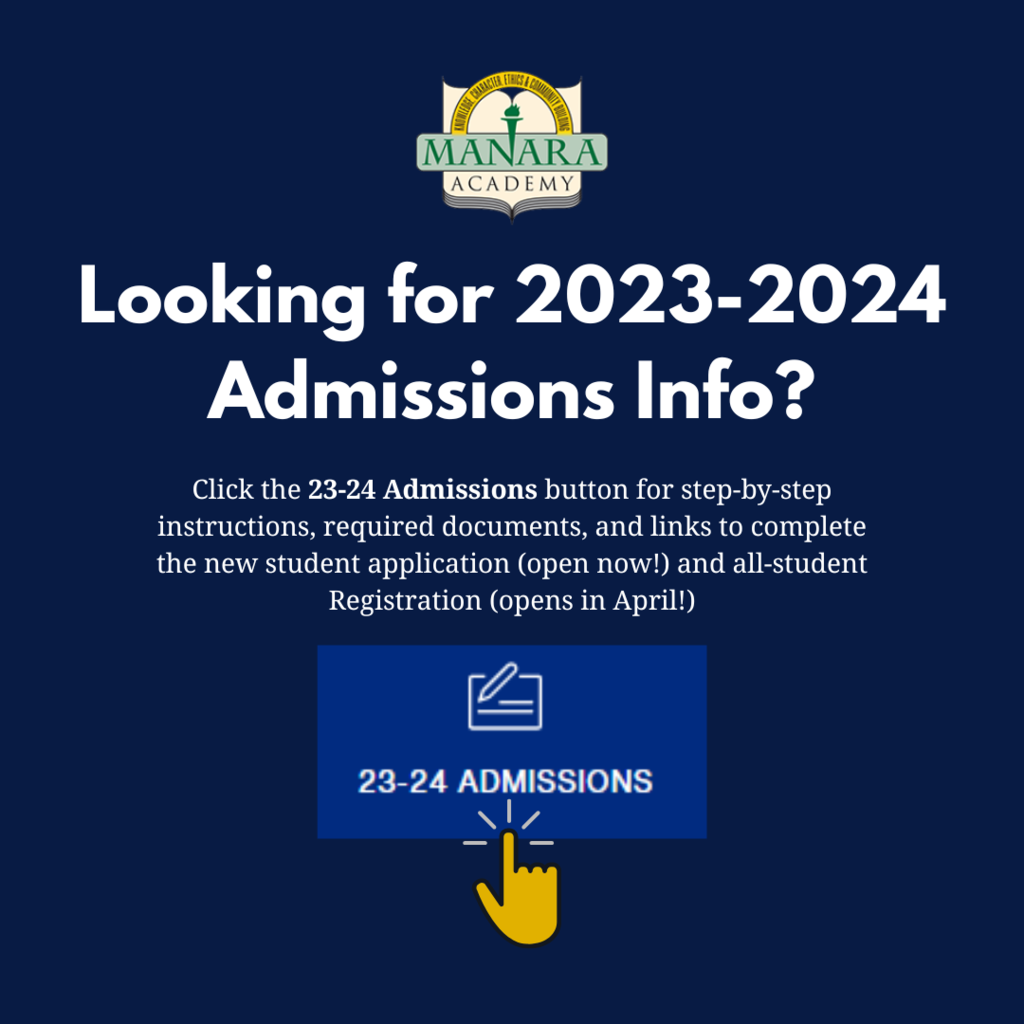 Welcome back, all! We hope you have sufficiently thawed from last week's icy conditions. A reminder: Intent to Return closes in FOUR DAYS (this Friday)! If your student does not have a completed ITR on file by the deadline, they will have to fill out NEW STUDENT APPLICATIONS and will lose out on their priority enrollment! Be sure to complete your student's ITR TODAY!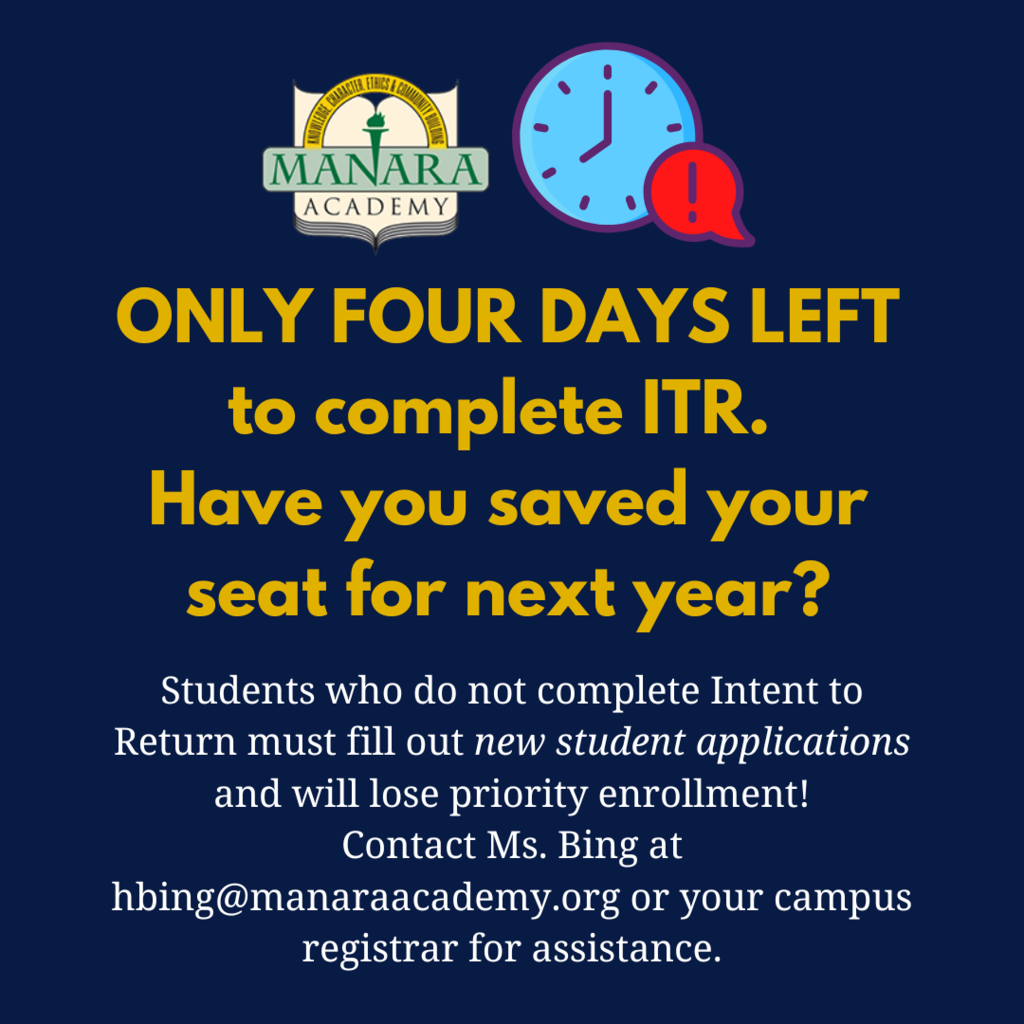 Manara Academy campuses will be closed on Friday, February 3rd. District operations will resume on Monday, February 6, 2023. We will inform our families of any calendar adjustments or make up day sessions or times if needed, as soon as possible.